Owensboro Lions Club
Soap Box Derby 2014!!!
Ben Hawes City Park, 400 Booth Field Rd, 42301
MEETINGS

1st & 3rd


Tuesday's


Noon


Owensboro Country Club


400 Byers Ave.
MARCH 7 & 8
District 43E Convention
Owensboro Convention Center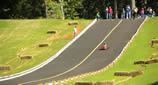 In 2001, a dedicated group of volunteers, working on behalf of the Owensboro Lions Club, brought the Soap Box Derby back to Owensboro after a 36-year absence. Since that time...

Approximately 120 advertising benches are located at or near city bus stops and street corners throughout the city. This is a great way for passersby to learn more about local businesses...

Interested in advertising?
Mission Statement

To empower


volunteers to serve


their communities, meet


humanitarian needs,


encourage peace and


promote international


understanding


through Lions clubs.